Charlotte Real Estate
In the heart of North Carolina, Charlotte's housing market is enjoying a sustained upsurge thanks to a flourishing economy, job expansion, and a desirable quality of life. The rapid growth of the Queen City is captivating a diverse array of residents, from young professionals to established families. This has led to a dynamic real estate market characterized by rising property values and limited availability.
Key Housing Market Metrics
Drawing from the comprehensive report by the "Canopy Realtor® Association," we examine the housing market trends of the ten-county Charlotte Metropolitan Statistical Area (MSA) over a year, from April 2022 to April 2023.
New Listings: There was a 25.1% decrease in new listings, from 5,808 in 2022 to 4,349 in 2023. Year-to-date figures also showed a 17.6% drop.
Pending Sales: A decrease of 9.1% was noted in pending sales. For the year-to-date figures, there was an 11.6% decrease.
Closed Sales: A significant decrease of 21.8% was noted. Year-to-date figures showed a 23.7% decrease.
Median Sales Price: The median sales price for April 2023 was $375,900, a slight decrease of 1.1% from 2022. However, year-to-date figures showed a 1.2% increase.
Average Sales Price: A 2.6% increase was observed for April 2023. Year-to-date figures showed a positive change, with a 3.8% increase.
Days on Market Until Sale: There was a 143.8% increase in April 2023. Year-to-date figures showed a significant increase of 114.3%.
Months Supply of Inventory: There was a 62.5% increase in the monthly supply of inventory for April 2023.
Average List Price: An 8.3% increase was observed for April 2023. Year-to-date figures showed an 8.2% increase.
Inventory of Homes for Sale: There was a 27.7% increase in inventory in April 2023.
Rental Market Trends in Charlotte
The Zumper Charlotte Metro Area Report provides insights into rent prices across various cities in the metro area. For example, the most expensive city for one-bedroom apartments was Charlotte at $1,570, while Hickory was the most affordable at $750.
Fastest Growing Rents in Charlotte Metro Area:
Charlotte saw the highest rent increase of 12.1% year-on-year.
Hickory followed with an 8.7% increase.
Rock Hill was third, with rents increasing by 8.6%.

Forecast for Charlotte Real Estate Market (2023-2024)
Zillow's market forecast indicates an expected 6.2% increase in home values over the next year. Despite the market's competitive nature, there's room for negotiation, with 59.4% of sales occurring below the list price.
Economic Factors Boosting the Appeal of Charlotte's Rental Market
As we gaze into the housing market crystal ball, one city glows brighter than the rest in 2023: Charlotte, North Carolina. Our city has not only surfaced as the fastest-growing real estate market in the United States, but it also boasts an enticing blend of lifestyle benefits and promising investment opportunities.
As your trusted partner, Henderson Properties stands ready to guide you through the energetic pulse of Charlotte's real estate market. Our commitment is to help you find your dream home in this bustling city, maximizing your investment while ensuring a seamless experience.
What Makes Charlotte The Ideal Real Estate Market?
Several key factors converge to solidify Charlotte's reputation as the hottest housing market for 2023:
1. Steady Appreciation of Home Values
From the 2020 starting line, home prices in Charlotte have embarked on a relentless upward climb, surging by an impressive 53%. According to the 2022 State of Housing in Charlotte Report, the median home price hit the $420,000 mark in September 2022, a significant leap from the $273,500 recorded in January 2020. This robust growth trajectory underlines the long-term investment potential nestled within Charlotte's real estate market.
2. Rise in Owner-Occupied Households
Zillow projects a good 6% rise in owner-occupied households for 2023. This forecast reflects an emerging trend of residents opting to invest in their own properties, driven by the rising attraction of Charlotte's unique blend of southern charm and urban amenities. In addition, the migration influx to Charlotte further stokes the demand for housing, tightening the market and encouraging price appreciation.
3. Thriving Job Market & Growing Economy
Fueling Charlotte's real estate ascent is a robust job market underpinned by a diversifying and expanding local economy. North Carolina's employment rate will reach 4,910,200 persons by December 2023, a 1.5% increase from December 2022. Additionally, we anticipate a surge of 72,800 net jobs in 2023, thanks to a steady influx of businesses setting up shop in Charlotte. These businesses span multiple industries, offering a plethora of opportunities for job seekers and further contributing to the city's population growth.
With rising home values, increasing owner-occupied households, and a flourishing job market, Charlotte's vibrant real estate scene is set to thrive in 2023 and beyond. As an experienced player in this market, Henderson Properties is ready to help you navigate this exciting journey.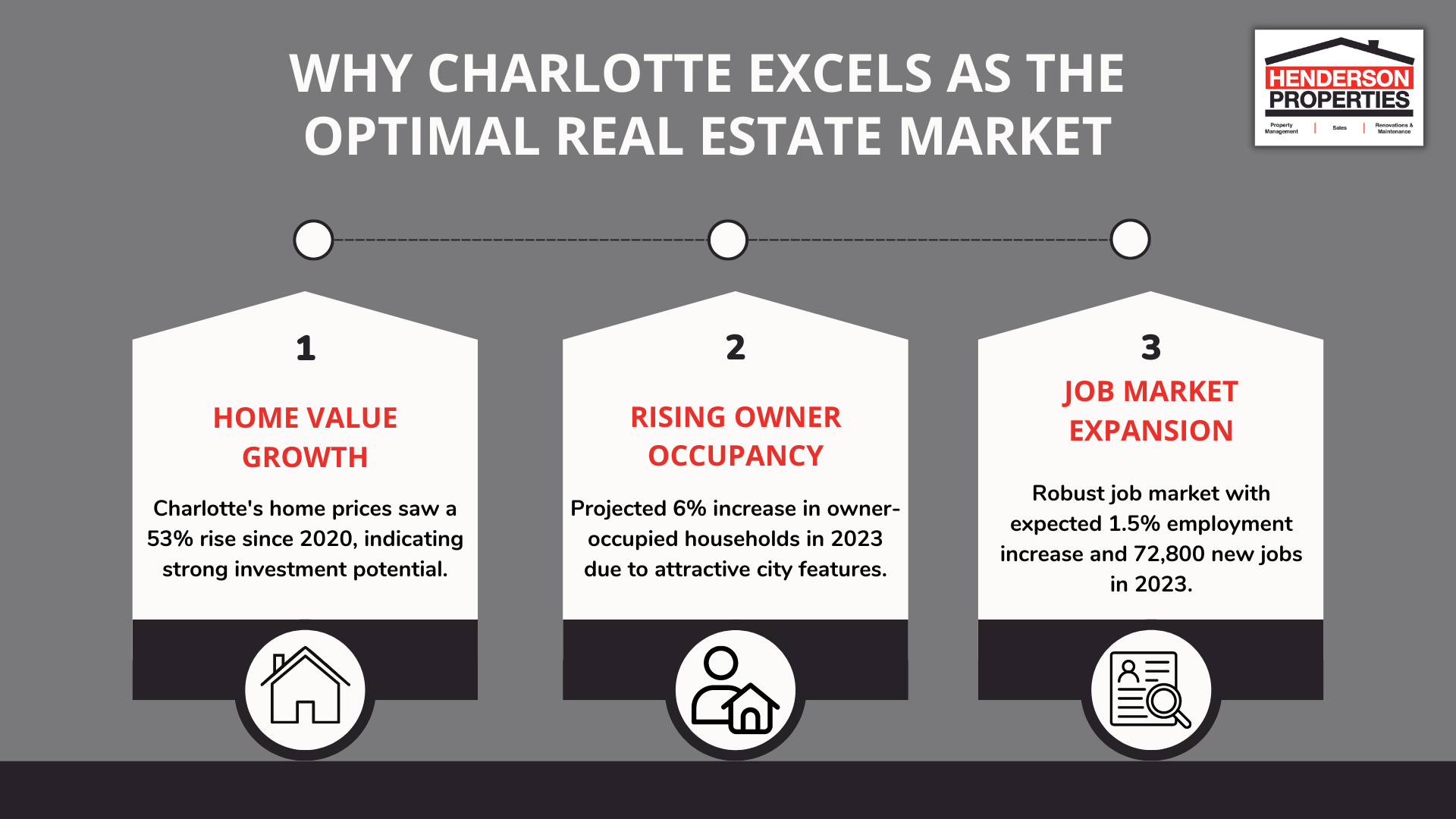 A Closer Look at the Job of a Property Manager
Our primary goal is to protect your real estate investment and ensure a steady passive income stream. We cater to landlords seeking a local professional to manage their properties or those wanting a more relaxed approach to property ownership. Here are some of our key responsibilities as your property manager:
Compliance with Landlord-Tenant Laws and Regulations
Juggling landlord-tenant laws and regulations across multiple properties in different regions can be daunting. As your property manager, we will navigate these legal waters on your behalf. We are well-versed in local laws and regulations, helping you avoid legal complications.
Local Representation for Out-of-Town Owners
Our property managers serve as your local representatives, handling all the intricacies related to properties in unfamiliar territories. In addition, we address maintenance and other operational issues promptly, ensuring everything runs smoothly.
Maintenance and Upkeep
Quick response to maintenance requests is crucial to keeping your tenants happy. Our team handles maintenance and other necessary in-person upkeep tasks. From addressing broken appliances to removing unwanted pests, we ensure your tenants' needs are met promptly, reducing turnover and maintaining tenant satisfaction.
Leasing Vacant Units
An extended vacancy can lead to financial losses. We efficiently market your property, attract new tenants, and renew existing leases. Plus, we offer in-person property viewings to potential tenants, a service particularly beneficial for out-of-state owners.
Rent Collection and Deposit
We facilitate the collection and deposit of rent, ensuring a smooth flow of your income. Our team also uses online payment platforms for quicker transactions. Moreover, we handle delinquent payments, collections, and evictions promptly and professionally, saving you both time and money.
Choosing Henderson Properties as your property management company allows you to enjoy the rewards of your investment without the daily hassles. Trust us to manage your properties while you focus on expanding your real estate portfolio.

Finding An Investment Property & Manager
Charlotte's rental market's fast-paced growth and resilience make it an appealing investment opportunity. With a robust economy, a surging job market, and a steady home value appreciation, Charlotte is a prime location for real estate investment.
Let us help you maximize your investment potential. Contact Henderson Properties today, and let's make the most of Charlotte's vibrant real estate market together.