Choosing the Right Agent
Getting enough money for an investment property is an exciting time. You can turn this investment income into short-term results or long-term gains with the right steps. But before you make this investment, you must find the right real estate agent.
Below, you'll find a quick guide you can use to find a real estate agent that works for your investment needs. You'll learn what to look for, what to know about the technology, and how it can help your investments grow.
Why You Need an Investment-Savvy Real Estate Agent
Experience is often a great way to determine success in an industry. For example, if someone has been a real estate agent for a decade, it shows they are doing something that works.
But if you want someone who knows what to do, you need a real estate agent with investment experience. Here are some reasons to look for experienced real estate agents:
Knowledge. Most real estate agents have access to local data, but only some know how to leverage that data. These agents will know mortgage rates, unemployment rates, and other factors that might impact you. Better yet, they'll see how that information affects property values.
Connections. Experienced agents have established networks of people in the industry. They know inspectors, lawyers, and other professionals to help you get the right home quickly. This is less time you have to spend finding other connections.
Off-market listing access. Experienced agents have lists of those seeking investment properties. You might get the first call when new opportunities arise by establishing yourself as someone wanting to purchase.
Shared vision. While you might have to work to find the right one, investment agents typically have the same goals. Good agents work with you to find a property that meets your needs because it will meet their needs for a sale.
Asking the real estate agent questions about their background, connections, and experience will help you learn more about their investment work. Working with someone who knows what they are doing, and has been doing it for a long time, can make a huge difference.
But more is needed to have experience in investing. Instead, that experience needs to expand to include investment properties.

Opt for Agents Specializing in Investment Properties
Real estate agents might consider themselves investors. After all, buying your first home is considered for many to be an investment in your future. But a real estate agent who claims investment experience might not know what to look for in investment properties.
In busy markets, the best agents specialize in investment properties in a specific location. A combination of local knowledge and more general market knowledge helps.
Here are some questions you can ask to make sure your agent knows investment properties:
What work have you done with investment properties? Ask about recent jobs they had related to your area of interest.
Do you have any investment properties yourself? If they invest themselves, that means they know how to focus on good decisions.
How do you know if an investment property is a good deal? Agents should be able to explain how they identify profitable properties clearly and concisely.
Does your group offer property management services? Agents connected to teams of investment property managers should have services that manage and maintain your property. This can be helpful if you plan on creating a rental property for long-term income.
How does your group advise on renovation decisions? Alongside property management decisions, properties might require renovations, and agents with knowledge of how that might affect your ROI (return on investment)
Finding the right real estate agent for your investment property goals involves questions on general real estate and investment property knowledge. Good real estate investors know how to help you manage your property, even during tenant disputes. They should also have a process for finding eligible buyers after you want to sell the property.
On paper, this all sounds like a lot of work. But thankfully, technology has made all of this much easier.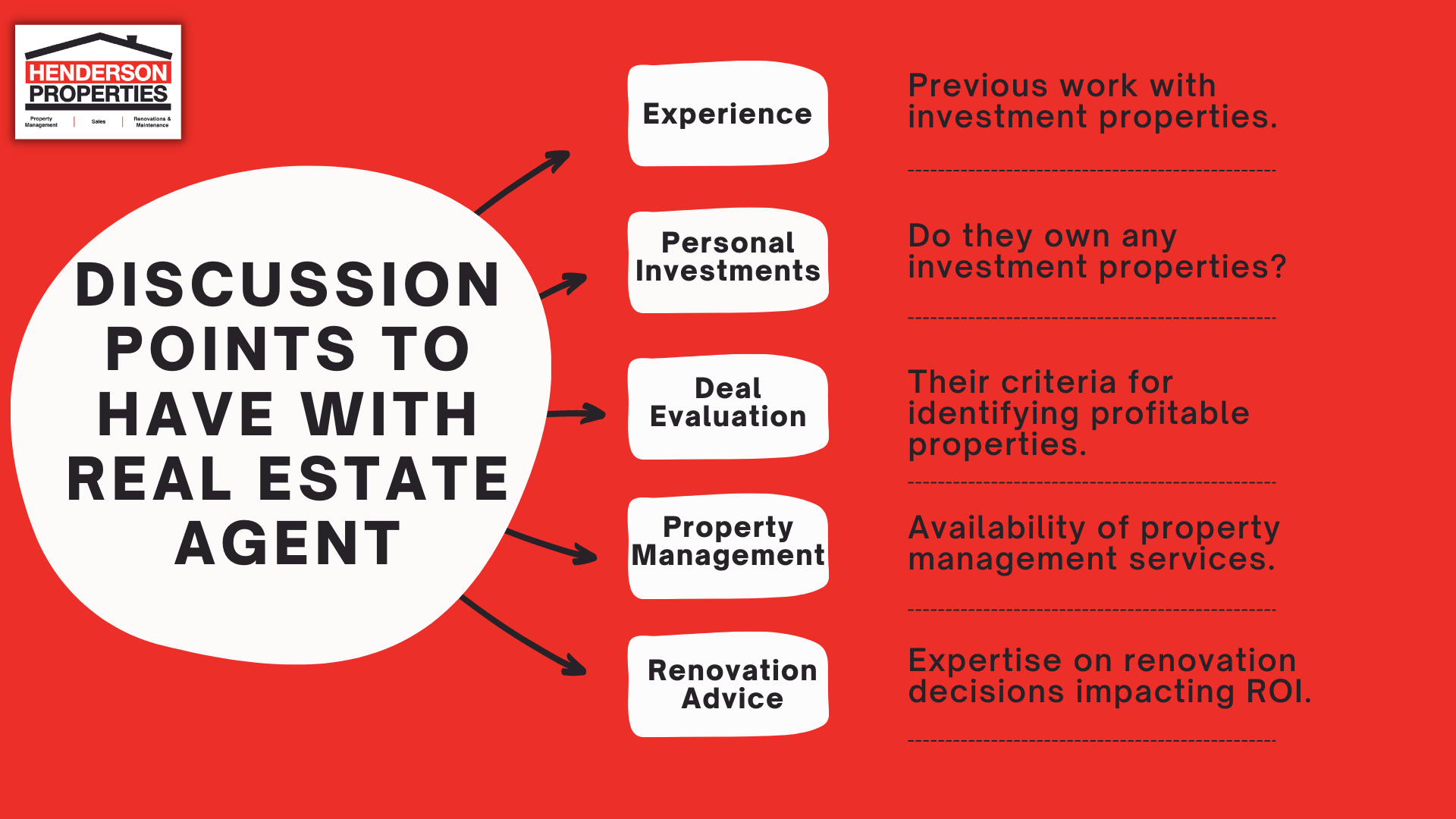 Tech's Key Role in Your Property Investment Journey
Technology is a huge part of everyday life, and our team at Henderson Investment Group uses it to make your life easier. This process follows you from identifying to managing your properties.
Here's how our real estate system works:
You determine relevant criteria based on your priorities (location, cost, property type, etc.)
Our system identifies relevant listings based on your needs, placing them directly in your online portal.
It updates every five minutes to find the latest listings matching your criteria.
You can notify a Henderson Properties real estate investor by clicking "interested" on the property details.
Your agent brings you through the buying process (visiting the property, negotiating on your behalf, purchasing it, renovating it, etc.)
You can rent it as a rental property, where Henderson will screen applicants and accept payments through an online portal. At this stage, you just need to wait for the money to come into your account.
When we sell the property on your behalf, we market it and list it the same way you found it before.
The back end relies on an MLS (multiple listing service) systems, which collects and updates listings for you regularly. On the front end, it's simple and easy to find properties, so you don't have to worry about researching properties yourself.
While technology is a great support, there is no replacement for an experienced real estate agent guiding you through the steps.

Real Estate Agents: Your Guide in the Investment Market
The real estate market can be a big and complex place. It's easy to get overwhelmed by the paperwork, data, and potential problems you run into. But a good real estate agent has coverage for these situations, helping you avoid some common pitfalls as an investor.
Good real estate agents start by knowing the local area. For example, they are from here and might have a few investment properties. Don't be afraid to quiz them on some "locals only" knowledge. A great way to start is by asking your friends and family members for their recommendations. You can also ask them if they have any local references.
Once you find someone who knows the local market, you can quiz them further. This helps you understand how these agents can help you find a profitable property, not feel overwhelmed by paperwork, and get through the process fast.
Part of this navigation leads us back to an important priority: they would make you feel comfortable. Agents who prioritize your needs will be willing to do what it takes to calm those anxieties.
Contact our team today to learn more about how Henderson Properties can help you navigate North Carolina's estate market!