Benefits of Handyman Services
We know your home is more than just a structure – it's a sanctuary filled with cherished memories. However, maintaining this precious space, especially older properties, can be daunting. From minor fixes to significant renovations, homes often require expert attention. That's where a professional handyman comes in.
Imagine the peace of mind knowing your home's maintenance needs are expertly handled while you relax. If you're a homeowner in Charlotte, here's why you should consider professional handyman services:
Efficiency: Save your time and effort. A reliable handyman can swiftly solve your home issues.
Versatility: A handyman brings diverse skills, from plumbing to painting, all under one roof.
Cost-effective: One handyman can handle various tasks instead of hiring multiple contractors, saving you money.
Reliability: A handyman with a solid track record can provide trustworthy service, reducing the risk of future repairs.
Superior Results: Professionals deliver high-quality work, leaving your home looking great and functioning optimally.
Let's dive deeper into the benefits of hiring a professional handyman.
Prioritize Your Home Projects
Understanding which projects will have the biggest impact, not only from a resell standpoint but also your quality of life, is critically important to address when considering hiring a handyman. Keep the following things in mind as you prioritize what to do first.
Identify Functional Needs First – Consider the aspects of your home that need improvement for daily functionality. Scrutinize every room to understand your needs versus wants and identify potential problem areas.
First Impressions – Smaller, achievable projects can make a huge difference. For example, revamping your entryway can make your home feel more welcoming, providing aesthetic and functional value.
Cost-Effective, High-Impact Projects – Consider the lowest cost options that will make the biggest impact. For example, a coat of paint or a few wood trim pieces can significantly transform your space.
Focus Your Attention – If your budget is tight or you feel overwhelmed, focus on a single wall or area. Completing a small area can be rewarding and improve the overall aesthetic of your home.
Work in Phases – Consider working in phases to manage your projects better. Start by updating fixtures and hardware, then gradually add embellishments such as crown molding and trim.
Clear The Space – Clearing the room of unnecessary items can give you a fresh perspective. Determine what high-quality items need to be refinished or painted, and which pieces truly fit your style.

Questions To Ask a Charlotte Handyman
Choosing a reliable handyman or contractor can be a challenge. At Henderson Properties, we recommend that North Carolina homeowners consider these crucial questions before hiring a professional for their home improvement needs:
Licensing and Insurance: Is the professional licensed and adequately insured to protect both parties during the project?
References and Testimonials: Are they willing to provide references or testimonials? These can give you insights into their past work and client satisfaction levels.
Work Portfolio: Can they provide photos of their past work? This can help you assess their attention to detail and project outcomes.
Background and Experience: What relevant experience do they bring? Their past experiences can be an indicator of their expertise and passion.
Scope of Capabilities: Are they clear about what they can and cannot do? Honesty in their capabilities shows professionalism and their concern for your satisfaction.
Reliability: Do they fulfill their commitments promptly? Check this with their past clients or through their testimonials.
Honesty: Are they transparent and communicative? The way they handle your queries and project discussions can reflect their honesty.
Excuses: Do they make excuses for any unfavorable outcomes in past projects? Professionals should be able to take responsibility for their work.
Trustworthiness: Finally, do you trust them? Your intuition plays a crucial role in deciding if they are the right fit for your needs.
Remember, your home and satisfaction are paramount; you deserve a professional who values these as much as you do.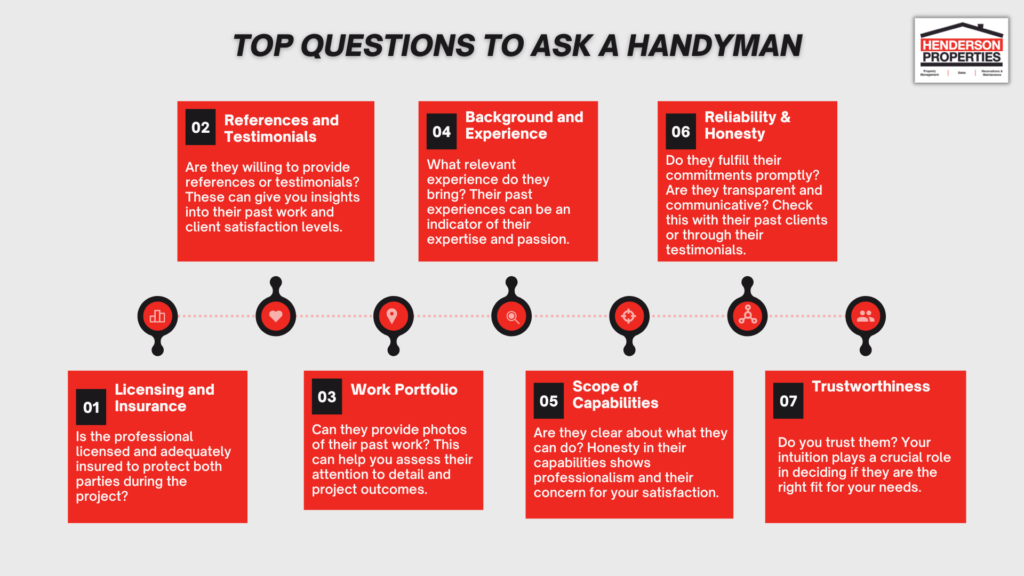 Importance of License & Insurance
Hiring a licensed handyman ensures professional completion of projects, potential savings, systematic project execution, and accountability. Licensed handymen are well-versed in their tasks, enabling more effective and efficient project completion, saving you from unexpected costs often associated with unlicensed workers. They carry out their projects systematically, keeping you informed and ensuring timely completion within budget. Their professional status instills confidence in their work and adds an element of accountability.
Moreover, a licensed handyman is insured, guaranteeing workmanship and protecting you from mishaps during the project. They meet all local and federal requirements, providing peace of mind knowing that they have been vetted by authorities and are held accountable by their insurers. This results in satisfaction, knowing your home or property is in safe, reliable hands. A licensed handyman ensures high-quality workmanship and value for your investment, demonstrating clear advantages over unlicensed counterparts.


Hire A Charlotte Handyman
Hiring a licensed and insured handyman is an excellent investment for homeowners in Charlotte. It ensures efficient, reliable, and professional service, from small fixes to significant renovations. It relieves you from dealing with multiple contractors or potentially shoddy work from unlicensed individuals. At Henderson Properties, we value your satisfaction and peace of mind, ensuring your home is handled by licensed professionals.
Take your time with the task of home maintenance and renovation. Take the next step today and secure your home's functionality, value, and aesthetics. We invite you to reach out to Henderson Properties for reliable, professional, and high-quality handyman services in Charlotte.
Give us a call or fill out a form to request a free quote on your next project! 704-535-1122