Home Sale Preparation
Charlotte, NC, one of the crown jewels of the Southeast, is home to a thriving real estate market. The journey ahead is promising if you're contemplating selling your home in the greater Charlotte area. However, optimizing your home for the market is essential to attract prospective buyers and secure a beneficial deal. With our deep roots and expansive experience in Charlotte's property scene, Henderson Properties offers a detailed guide to preparing your house for sale. Here's a helpful walkthrough:
1) Understand the Charlotte Housing Market
Research the Local Trends: Charlotte's real estate market has nuances. Start by analyzing recent sales in your neighborhood through platforms like Realtor.com.
Consult Experts: At Henderson Properties, our team keeps a pulse on local market shifts. Engage with our experts to get insights tailored to your property.
2) Partner with the Right Agent
Choose Local Expertise: Engage with an agent familiar with the Charlotte landscape. They'll have an inherent understanding of what local buyers seek.
Discuss Strategy: Our agents at Henderson Properties will provide a transparent and strategic plan to sell your home, encompassing online and offline promotions.
3) Setting the Right Mood
Illuminate Interiors: Stock up on light bulbs and ensure every room feels bright and inviting.
Outdoor Lighting: The exterior of your home should be just as radiant, especially if you're hosting evening viewings.
4) Make Cleanliness a Priority
Professional Cleaning: Consider hiring professionals to clean your home deeply. This ensures a thorough job, from the carpets to the ceilings.
Maintain Regularly: Once deep cleaned, set a schedule to tidy up routinely, ensuring your home is always ready for surprise viewings.
5) Declutter and Organize
Storage Solutions: Consider renting a storage unit for items crowding your space. In Charlotte's fast-moving market, a clutter-free home is an advantage.
Highlight Key Features: Ensure buyers can focus on unique home features without being distracted by personal items.
6) Address Minor Fixes
Consult a Handyman: Before listing, ensure everything is in optimal condition. From minor wall cracks to kitchen fixtures, address all.
Garden and Exteriors: Charlotte buyers love outdoor spaces. Ensure your garden, patio, and exterior walls are in pristine shape.
7) Appeal with Neutrality
Repaint in Neutral Tones: Soft grays, beiges, and off-whites appeal to a broader audience and allow buyers to visualize their decor.
Minimalistic Decor: Simplified decor can help spaces feel more expansive and versatile.
8) Utilize Professional Photography
Invest in the Best: High-resolution images make your online listing pop. This is often the first introduction buyers have to your home.
Highlight Key Areas: Ensure photos cover every corner, especially areas that are unique selling points of your property.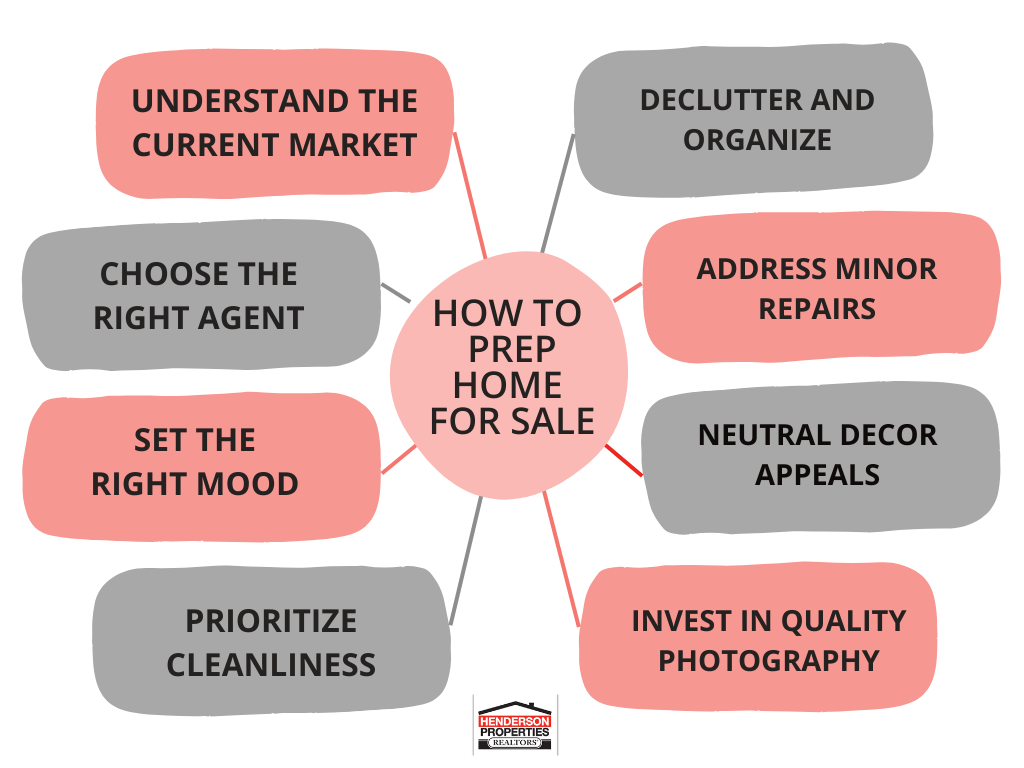 Essential Staging Techniques
We understand that your home is more than bricks and mortar; it reflects your life, memories, and personal tastes. But when it's time to sell, presenting your home in a manner that appeals to a broad range of potential buyers can significantly influence the speed and price of the sale. Here's how you can make your home shine with just a few uncomplicated staging strategies:
Amplify Storage Perception: Buyers often seek ample storage space. To make your storage areas appear more spacious, declutter by removing half the items and neatly organizing what remains. Buyers will likely inspect closets and cupboards, so ensure they present a spacious image.
Neutralize Personal Touches: Potential buyers can envision their life in the space more easily when personal items are absent. Streamline your home's appearance by packing away family photographs and distinctive collectibles. The closer your home resembles a model house, the easier it is for potential buyers to see themselves living there.
Stay Prepared for Showings: From the moment your house hits the market, ensure it's always viewing-ready. Prioritize areas like the entrance, kitchen, and bathrooms, ensuring they remain spotless. While maintaining perfection can be challenging, remember that first impressions are vital in real estate.
Highlight a Spotless Bathroom: A pristine bathroom often stands out during home viewings. If you're aware of an upcoming showing, freshen it up: swap out towels, clear the counters of personal items, and give the surfaces a quick shine.
Introduce Greenery: Fresh flowers or potted plants can dramatically transform a space, infusing vitality, and color. Place them strategically in central areas of your home to elevate the ambiance.
Optimize Furniture Arrangements: An overcrowded room can appear much smaller than its actual size. Assess each room, remove surplus furniture, and rearrange the remaining pieces to accentuate space and functionality.
By creating a universally appealing, bright, and welcoming atmosphere, your home will capture potential buyers' interest and secure a favorable impression. Let these staging techniques be your guide to making your home-selling journey smoother and more rewarding.
Sell Your Home Fast
Preparing your home for a quick and profitable sale in the dynamic Charlotte real estate market requires combining strategy, aesthetics, and local market insights.
Firstly, collaborating with the right real estate agent is paramount. At Henderson Properties, our experienced Realtors understand the pulse of the local market and are armed with strategies like competitive pricing based on comparable homes, the psychological impact of "just-below pricing," and effectively marketing your property. A well-staged, decluttered, and depersonalized home is appealing and sells 88% faster. Coupled with boosted curb appeal, addressing minor repairs and offering financial incentives can make your property stand out and appeal to discerning buyers. From ensuring your home's exterior paints a perfect first impression to taking care of quick fixes, we meticulously guide you through each step.

Hot Neighborhoods in Charlotte
As Charlotte, North Carolina, continues its rapid growth with over a million residents, its neighborhoods are becoming prime real estate spots for those looking to sell their homes quickly. North Carolina's rich natural attractions, combined with Charlotte's urban appeal, make it an attractive hub for potential buyers. Here are some neighborhoods that are hot in the market:
Dilworth: This quaint neighborhood offers city proximity and a suburban feel, drawing buyers seeking a tranquil yet connected life.
NoDa: An arts-centric neighborhood with an eco-friendly focus, NoDa homes attract a diverse range of buyers, making sales swift.
Plaza Midwood: This trendy yet relaxed locale boasts a vibrant food scene and nightlife, pulling in those looking for a lively community and expediting sales.
South End: Catering primarily to younger professionals, this area, with its vibrant nightlife and apartment-centric atmosphere, sees homes moving rapidly.
Southpark: With its luxurious ambiance and community spirit, properties in Southpark are in high demand among those seeking upscale living.
Southwest Charlotte: Merging historical richness with contemporary developments, this area promises significant property appreciation, appealing to future-focused buyers.
Uptown Charlotte: Homes here offer the allure of urban life with patches of green, appealing to a broad range of potential buyers.
University City: Comprising both established and newer communities, properties in this neighborhood cater to diverse buyers, ensuring faster sales.
Westside: Close to Charlotte Douglas International Airport and with potential future infrastructure developments, Westside is a top investment choice for many.
Ready To Sell?
Take the guesswork out of selling in Charlotte by partnering with Henderson Properties Realtors. Our tailored approach ensures your home doesn't just get seen but remembered. Let's collaborate to ensure your home is showcased in its best light, attracting the right buyers and commanding a worthy price. Choose Henderson Properties — where your home's potential meets our expertise. 704-535-1122