Getting The Most ROI
When preparing a home for sale, homeowners often decide what to repair and what to leave as is. Not all repairs are essential; some might even cost more than the value they add to the property. Here are some recommendations from Henderson Properties Realtors on which repairs to prioritize and which ones you can usually skip.
Repairs to Prioritize
Cosmetic Flaws:

Essentials: Addressing minor issues like cracked caulking, touching up grout, drywall repairs, thorough cleaning, and a fresh coat of paint can make a house feel well-maintained.
What to Skip: Things like minor scratches on hardwood floors, a few cracked tiles, or some outdated finishes. Unless these significantly affect the home's appearance, they can be left as they are. After all, normal wear and tear is expected.

Electrical Issues:

Essentials: Address glaring electrical hazards such as old wiring, exposed wires, outdated panels, dangling light fixtures, and ungrounded outlets.
What to Skip: Minor concerns like loose outlet plugs, dead outlets, or seemingly pointless light switches. These usually aren't deal-breakers.

Exterior Appeal:

Essentials: Emphasize curb appeal. Simple updates like landscaping, tree work, and clearing your grounds can significantly impact you.
What to Skip: Minor cracks in driveways or walkways unless they present a significant hazard.

Building Code Issues:

Essentials: Address building code violations if they aren't "grandfathered in."
What to Skip: Homes built according to past regulations typically don't need to be updated to current codes if they're "grandfathered in."

Room Upgrades:

Essentials: If a remodel will harmonize your home with the rest of the neighborhood or a previously remodeled part of the house, it's worth considering.
What to Skip: Partial remodels or upgrades. Incomplete projects can give buyers the impression of hidden issues or half-hearted attempts at renovation.

Removable Items:

Essentials: Removing worn or dated items rather than updating or replacing them can save time and money.
What to Skip: Replacing inexpensive items like window treatments unless in poor condition.

Appliances:

Essentials: If appliances are old, malfunctioning, or mismatched, consider replacing them with newer (but not necessarily top-of-the-line) models.
What to Skip: Replacing functional and decent-looking appliances, even if they aren't the latest models.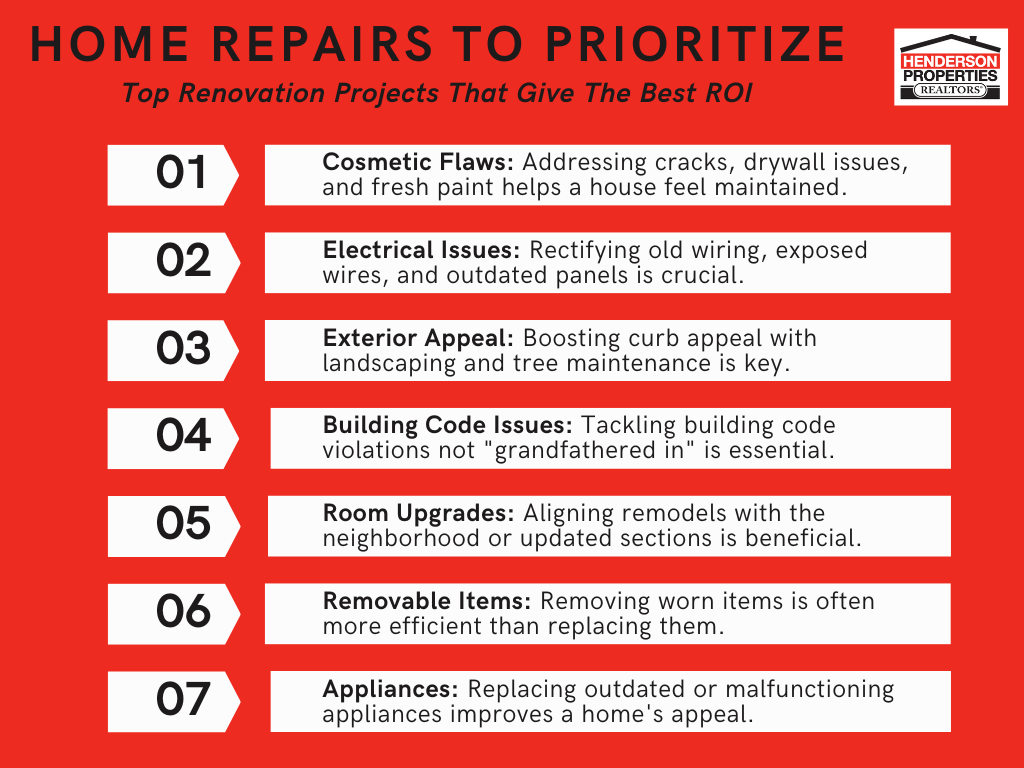 Common Home Improvements to Reconsider
Before diving into major home improvement projects, homeowners should evaluate whether they'll add value. Here are some projects that might not yield the desired return on investment:
Too Much Wallpaper: It's expensive and can be off-putting to potential buyers.
Built-In Electronics: Gadgets become outdated, and personalizations can decrease home value.
Wall-To-Wall Carpeting: Especially over existing hardwood floors, as hardwood often offers a better return.
Swimming Pool: Expensive to install and maintain and doesn't always add significant value.
Garage Conversions: Potential buyers may prefer an intact garage.
DIY Projects: If not done professionally, they can detract from the home's value.
Bold Colors: Stick to neutral palettes to appeal to a broader range of buyers.
Adding a Sunroom: Expensive and often doesn't add to a home's square footage value.
Textured Walls and Ceilings: Can be off-putting and expensive to rectify.
Overdone Landscaping: Might be seen as high-maintenance.
Outdoor Fire Features and Landscape Lighting: High cost with low return on investment.
When preparing to sell your home, making informed decisions about repairs and improvements is essential. Prioritizing the right projects can help maximize your investment return while avoiding unnecessary expenses.
What Home Renovation Gives the Best ROI?
As homeowners constantly explore ways to boost their property's worth, the answer may be right under their feet. Refurbishing hardwood floors has been the most profitable home improvement since the onset of the pandemic. This revelation comes courtesy of a recent study by the National Association of Realtors and has been highlighted in a report from Money.com.
Impressive Returns on Flooring Renovation
The 2022 Remodeling Impact Report from the National Association of Realtors, as cited by Money.com, divulges that homeowners who took the plunge into refinishing their hardwood floors saw an astounding ROI. On average, homeowners invested about $3,400 in the project, which subsequently augmented the property's value by an estimated $5,000—translating to a remarkable 147% return on investment.
Similarly, those who opted for new wood flooring installation were included in reaping impressive returns. With an average spend of $5,500, homeowners saw their house's resale value jump by an estimated $6,500, marking an ROI of 118%. Among the slew of home improvements, only an insulation upgrade rewarded homeowners with a full return, recuperating at least 100% of the project's cost upon resale.

Top Home Renovation Projects for ROI in 2023
According to the highlighted report, the following renovations offered the highest cost recovery:
Refinish hardwood floors: 147% ROI
New wood flooring: 118% ROI
Insulation upgrade: 100% ROI
Basement conversion to living space: 86% ROI
Closet overhaul: 83% ROI
Attic conversion to living area: 75% ROI
Complete kitchen makeover: 75% ROI
Bathroom refurbishment: 71% ROI
Minor kitchen enhancements: 67% ROI
Additional bathroom: 63% ROI
Primary bedroom addition: 56% ROI
Why Choose Henderson Properties for Your Home Renovation?
Are you pondering over a home renovation project? Henderson Properties Renovations & Maintenance Division is your one-stop solution in the greater Charlotte region. With a wide array of services ranging from general handyman tasks to specialized renovation offerings for buyers and sellers, our team ensures top-tier quality without stretching your budget. Whether you're eyeing an interior revamp or looking to beautify your home's exterior, our highly trained staff and vetted contractors are equipped to manage your project seamlessly.
We've got you covered from sheetrock repair, HVAC services, and exterior wood replacement to 24/7 emergency maintenance. Don't just take our word for it—experience the Henderson difference yourself. Call now! 704-535-1122