Realtors for Investment Success
In the throbbing heart of the South, Charlotte's property landscape thrives with opportunity. While the Queen City is teeming with realtors, the ones with an investor's precision truly make a difference. So, how do you spot one in the bustling crowd? Let's delineate the defining traits.
Exclusive Traits of the Best in Business
Learning the property investment landscape in Charlotte demands an agent with a certain flair. These agents bring expertise to the table, but a suite of unique offerings that can be the difference between a good deal and a great one. Here's what elevates the best from the rest:
Exclusive Property Access: Their circles allow them to access properties even before they're common knowledge, offering distinct advantages in avoiding drawn-out bidding wars.
Full-Time Commitment: The best are always immersed, processing more than 100 transactions annually.
Micro-Market Mastery: Charlotte is vast. The ace agents aren't just city-wide experts but possess granular knowledge about neighborhoods, from NoDa to Ballantyne.
Real Investment Experience: They're not just agents but investors themselves, offering genuine insights from firsthand experiences.
Deal Analysis Proficiency: Beyond price tags, they unravel costs like renovations, local taxes, and potential rent, ensuring you know your deal inside-out.
Mastery in Investor Terminology: They're versed in investor speak. Terms like "cap rate" and "gross rental yields" are their everyday jargon.
Expansive Network: Their connections span contractors, title companies, and even fellow competitors, ensuring you're always in the loop.
Renovation ROI Insight: Investment is about returns. These agents know which renovations drive value in Charlotte's diverse neighborhoods.
Expertise in Property Management: Their holistic service approach and insights make every step seamless from purchase to rental.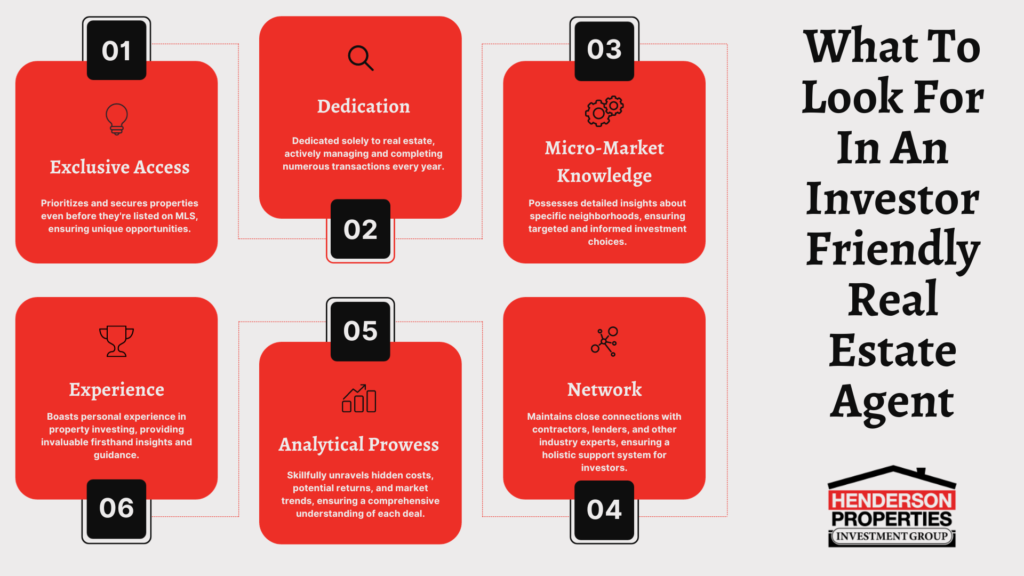 How to Find Charlotte's Premier Agents
The challenge isn't just finding a real estate agent; it's discovering the best match for your investment strategy. While traditional methods like attending local REIA groups or scouring through numerous online platforms offer some insights, there's a need for a more efficient approach. Henderson Properties bridges this gap, presenting tools that refine your search and match you with the best.
Specialization Overview: Our proprietary agent-matching platform dissects mountains of transactional data, spotlighting agents' areas of expertise. If it's "Investment Properties" you're after, you'll find it at a glance.
Detailed Transaction History: A comprehensive heat map and yearly transaction breakdown ensure you only partner with the best.
Local Transaction Insights: Delve deep into localized dealings with our "Transactions Near You" feature, ensuring your chosen agent is a local maestro.
Essentials for the Ideal Partnership
Investor-friendly agents in Charlotte aren't just about the number of deals they've closed or their years in the business. The real difference-makers possess qualities that ensure they're not just transactional agents but true investment partners. As you evaluate potential realtors for your next investment, consider these essential traits that can greatly influence your investment outcomes:
Charlotte Market Mastery: The best agents have their fingers on the pulse. From precise comps to capturing emerging market trends, they're the guides you need in this vast city.
Numerical Savvy: Their lexicon is filled with investment terminologies, ensuring seamless conversations and precise calculations for returns and expenses.
Investment Experience Under Their Belt: Having weathered investment challenges, these agents offer guidance and open doors to invaluable networks.
Rooted in Core Values: Ethical considerations stand at the forefront. The ideal agent has a clear moral compass, ensuring a partnership based on trust and aligned objectives.

Ready To Buy & Invest?
Venturing into Charlotte's vibrant investment landscape demands more than just an agent; it calls for a partner. A partner who understands, guides, and champions your vision. As you step into this world, ensure your ally embodies these traits, setting the stage for success.
Trust your journey with a name that understands Charlotte like no other. Let Henderson Properties be your guiding star in the Queen City's radiant property sky. Reach out today!