Remodeling Tips for Charlotte Homeowners
Taking on a kitchen or bathroom remodel or renovation can be a bit stressful. That said, it's possible to take some of the stress out of the renovation process by trying some of these practical, tested kitchen and bathroom remodeling suggestions.
It's all about taking your time and planning ahead.
Kitchen Renovation
1) Reclaiming Counter Space
For many people, there is no more precious real estate than counter space. Under-cabinet pulldown racks can solve clutter issues by providing storage for knives, spices, and other everyday counter items. They can be pulled down when in use, then swung back up, allowing you greater access to your counter for food preparation and easy cleanup.
2) Testing Kitchen Island Space
One solution many people try to address counter space issues is adding a kitchen island. Of course, this ends up sacrificing floor space. Take a look at the different kitchen island options available to you and create some mock islands of roughly the same size to place in the middle of your kitchen. Large cardboard boxes grouped and piled can serve as possible stand-ins.
How does a kitchen island affect traffic flow? Do you have room to work safely? Do refrigerator and oven doors open fully and safely?
By creating model kitchen islands, you can determine the best kitchen island solution for you?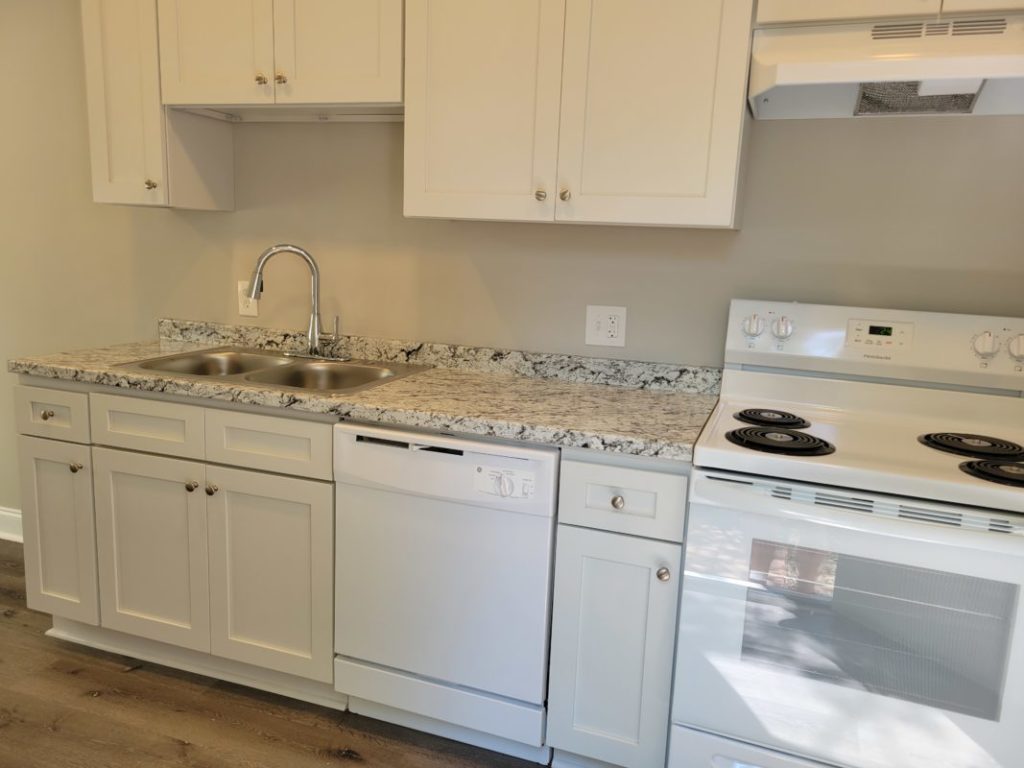 3) Create a Mini-Office
A small desk with a chair set in an unused portion of the kitchen can make a perfect place to sit to do household accounts, store and organize recipes, or simply take a break. It can even be a spot for kids to do homework.
Don't forget to include some drawers or a cabinet to store important papers or bills.
4) Cabinets First, Countertops Second
Instead of relying solely on your drawn-up plans, wait until you have new cabinets installed before finalizing your plans for a countertop. Then, measure out the base cabinets to figure out what you need for the countertops.
Why does it this way? Because due to corners and non-aligned walls, your original cabinet dimensions may have changed between planning and installation. Once your cabinets are sorted, you can choose your countertop size (and material) with more confidence and less waste.
Bathroom Renovation Tips
1) Room Color

Sometimes the most noticeable change can be achieved with the most uncomplicated process. For example, changing the color of your bathroom can not only make it appear fresher, but it can also change one's perspective of size. Light colors often make small rooms look more prominent. White or light-colored sinks, toilets, and bathtubs can also make a bathroom seem more significant than it is. As for the ceiling, experts recommend sticking with white or off-white.
2) Adjustable Bathroom Lighting
It's easy for bathroom lighting to get too bright or even too low. Different people in the house may have different needs or preferences. Too many homeowners overlook the potential for a dimmer switch. Even if you don't find yourself adjusting the light intensity often, it's a great way to get the exact level of lighting that's best for your bathroom.
3) Flooring Options
Wood floors look great, but they're not the best type of flooring material for bathrooms. Water exposure, over time, will wear away the finish and weaken or warp the wood. Instead, choose the flooring that can withstand daily exposure to bathroom use. Recommended choices include porcelain or ceramic tile or vinyl in either tile, sheet, or plank.
4) Add a Mirror
Mirrors are for more than shaving, checking makeup, or fixing hair. As a design element, mirrors can make a bathroom more expansive visually. A second mirror—possibly full-length—can come in handy, too, when preparing for the day.
5) Bathroom Ventilation
By code, your bathrooms should already have some kind of ventilation. A new fan or ventilation system could turn a good bathroom into a great bathroom. Make sure to compare exhaust capacity with the size of your bathroom and noise level.
An Important Tip For Both Bathroom and Kitchen Renovations
It's possible that during your renovation or remodels; you may not have full access to your bathroom or kitchen. Consider this possibility in advance. Set up a temporary kitchen with a microwave, hotplate, and mini-fridge to carry you over until you can get full, safe access to your kitchen again. Figure out what dishes you'll need and how to handle washing them if you don't have access to your kitchen sink or dishwasher.

Similarly, be prepared to use an alternative bathroom if possible. Most bathroom remodels happen quickly, so this shouldn't be too long an inconvenience. Nonetheless, it's a good idea to plan.
Remodeling & Renovation Services for the Greater Charlotte Region
Henderson Properties is standing by, ready to help with prompt and affordable remodeling and renovation services. Our highly trained staff and extensive pool of qualified contractors can take on whatever projects you have in mind to make your home the best it can be.
From the initial bid to the final inspection, our team will ensure the job is completed quickly, efficiently, and with attention to the costs involved. Our comprehensive services are available through our Maintenance Division to all of our customers. We look forward to hearing from you.