Spring is a time when most homeowners turn to thoughts of getting some work done around the house. Knowing where to start is the first step in this process. As you consider the options you have, don't forget to spend some time outside. Spending time on your yard not only makes your home welcoming and inviting, but it can also help with resale value. Here's a little more you should know about curb appeal, and what to focus on as you spruce up your yard.
Why Curb Appeal Matters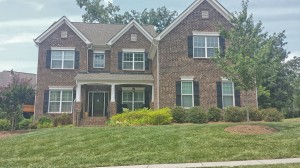 Your home's curb appeal is like the crucial first impression at a job interview. It's the first thing an interested or curious buyer sees when driving by your home. The exterior of your home shows potential buyers many facts.
For instance, a home with a well-kept lawn is one that shows pride of ownership. It also shows that you are serious about maintenance. People who pay attention to detail in their yards also keep up the interiors of their homes as well. This helps improve your property's value and the speed at which you will sell it when you are ready.
Areas That Bring the Highest Return on Investment
If you are deciding what parts of your yard to tackle, here are some recommendations from the team at Henderson Properties.
First, start by clearing clutter. Clutter can be in the form of toys and other belongings in the yard or it can be in the form of too much foliage that is under control. Keep clutter, both living and non-living, at a minimum.
Next, tackle the plants you do have to make them look their best. Trim shrubs, fertilize flowers and cut back dead branches. Instead of planting new flowers, make the ones you have look their best.
Once the plants are in good shape, take a close look at your yard to see if there are any unsightly features you need to remove. Features like bars on windows or empty window boxes detract from your overall curb appeal, so remove these if you can.
Finally, give the lawn some attention. A green, well-kept lawn is a huge asset to a home, and one that will increase your property's value in the eyes of a potential buyer.
At Henderson Properties, our goal is to help our clients achieve their goals. If you are considering listing your home for sale in the near future, let our expert team show you areas where you can improve your curb appeal to improve the value and appeal of your home.