The idea of renting an apartment often gets a bad rap. People are always ready and willing to volunteer stories about rude landlords, decrepit living conditions and skyrocketing rent.
Fortunately, for both current and future renters, these horror stories do not have to be the norm. With a little extra work and some careful planning, living in an apartment can be a positive and enjoyable experience. We have put together a few simple tips to help make the most out of your time renting an apartment.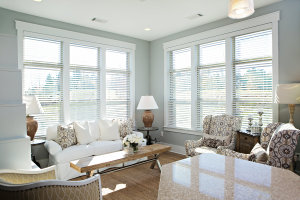 1. Find a space that you love.
Start things off on the right foot by finding an apartment space that fits your style and makes you feel comfortable. Whether you have always wanted to live in a modern loft apartment or you would rather live in a more traditional space, take the time to select an apartment that you love and can see yourself living in for a while. It is much easier to make an apartment feel like home when you feel like you truly belong there.
In addition to the style of the apartment, you should also consider the location. If you enjoy walking to stores and restaurants within a city, then it probably is not the best idea for you to move to the suburbs. If you thrive off of being surrounded by nature, then living in a concrete jungle may not be the best decision. A rental experience is instantly more enjoyable when you are happy with the space and your immediate surroundings.
2. Decorate and organize with a purpose.
Even if you are happy with your apartment space as a whole, the reality is that many renters would love to have more space. Fortunately, you can achieve your decorating and organizational goals if you take the time to plan ahead. Get furniture that is sized appropriately for your apartment – you do not want to live in a space where you constantly have to tip-toe around furniture pieces that are way too big.
Additionally, take some cues from online sources like Pinterest, and get creative. If your apartment is lacking in square footage, make use of the vertical space with shelving and other storage options. And don't forget to add plenty of personal touches. Do whatever you can to make this space feel like home.
3. Get to know your landlord and management.
This does not mean you have to become best friends with your landlord, but it never hurts to be friendly and respectful towards the person who owns your home. It may not get you any special treatment, but it can help make your rental experience more enjoyable. It is also important to know who is managing your apartment building, like an HOA management company. Companies like this are typically hired to make life for renters a little easier and more organized, so know whom you should call with any questions or concerns.