If you are one of the many Charlotte families who live in an apartment complex or condo development, trick or treating with your children can be a little trickier. Even though you don't have a traditional neighborhood readily available, it is definitely still possible for your kids to go hunting for candy in a way that is safe for everyone.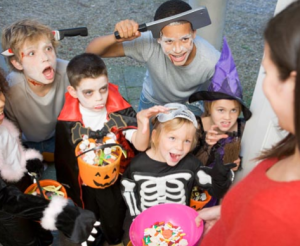 1. Visit residents that you know. Realistically, it's often so much easier to take your kids trick or treating right outside of your doorstep. If this is in a complex, go to the units of people that you know. In a traditional neighborhood, people will often sit outside, so you know that they are welcome to trick or treaters. This isn't always possible in an apartment complex. To avoid bothering strangers who don't want visitors from kids in costumes, stick to your friends and acquaintances in the area.
2. Take advantage of public events for trick or treating. The Charlotte area is great at providing many fall activities and events on Halloween evening that will allow children to trick or treat in a safe place. All of the local malls (SouthPark Mall, Northlake Mall and Concord Mills) are hosting Halloween festivities. These are a great option for families in non-traditional neighborhoods.
3. Don't let your kids trick or treat alone. Whether you decide to venture through the complex or hit up the local mall, make sure an adult is with your child at all times. The reality is that some predators will take advantage of this holiday to disguise themselves around children. Be aware and keep your kids safe by staying by their side. You could even host your own Halloween party so you know exactly where your children are and who they are with.
While trick or treating in an apartment or condo complex may not be your ideal scenario, there are always ways for your kids to safely seek out sweet treats while they are dressed up in their favorite costumes.