Townhome Ownership 101
Purchasing a townhome can be a great way to invest in property without all the maintenance and upkeep of a single-family home. But it is always wise to remember a few things when shopping for a new townhome.
So, you're wondering: "What should I look for when buying a new construction townhome?"
First, let's define a townhouse. A townhouse is a row house attached to other homes on both sides. Townhomes have two or three stories and feature shared walls. Townhouses are often part of a planned community, which can add amenities like swimming pools, tennis courts, and playgrounds.
As a member of the townhome community, residents must agree to follow the community's bylaws, which the Homeowners Association manages.
Now that we've covered the important topic of "What is a townhouse?" let's move on to tips for buying one.
1) Does Location Matter?
Location matters in real estate. You'll want to consider the townhome's neighborhood and its proximity to schools, public transportation, and other amenities.
For instance, choosing a townhome in a good school district should be a priority if you have school-age children. And if you use public transportation to get around, you'll want to ensure the townhome is close to bus or train stops.

2) Why Shouldn't You Buy A Townhouse?
Townhomes are an excellent option for those who want to own property without all the maintenance and upkeep of a single-family home. But it would help if you kept a few things in mind before buying a townhome.
First, townhomes are typically part of a planned community, which means you'll be required to pay monthly or annual dues to the Homeowners Association. These fees cover the cost of maintaining the common areas of the townhome community, such as the swimming pool, tennis courts, and playground.
Second, you may have to deal with noisy neighbors because townhomes are attached to other houses on both sides. So if you value quiet, a townhome may not be the right choice for you.
Third, a townhome community may not be for you if you're the type who sometimes likes to break the rules. That's because residents must agree to follow the community's bylaws created and enforced by the Homeowners Association.
While these rules can vary from community to community, these bylaws could include occupancy limits, rental or lease restrictions, pet policies, guest or overnight parking restrictions, and noise restrictions. So if you're someone who likes to live life on the wild side, a townhome community might not be the best fit. In addition, in some townhome communities, multiple infractions of the HOA bylaws and regulations could result in your expulsion from the community.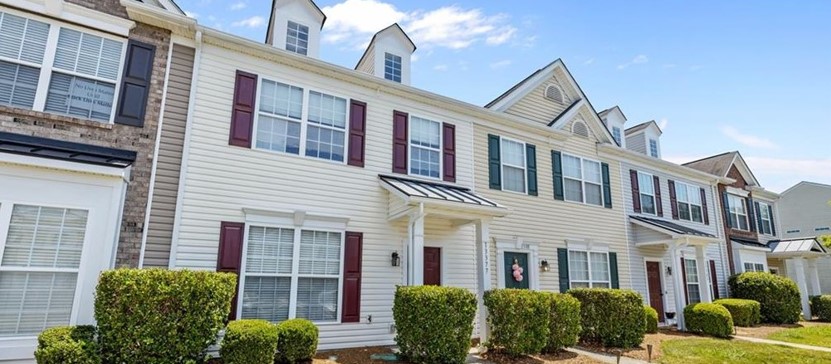 3) Do Townhomes Appreciate More Slowly?
While townhomes appreciate more slowly than single-family homes, they tend to hold their value better in a down market. That's because townhomes are usually more affordable than single-family homes, so they appeal to a broader range of buyers.
Of course, anything can happen, and swinging market conditions could result in townhomes appreciating faster or slower than single-family homes. So whether or not you profit depends on what the market bears.
During a buyers market, when there is an oversupply of homes on the market and not enough buyers to snap them up, prices tend to decline. In this type of market, townhomes may appreciate more quickly than single-family homes because they offer many benefits of owning a single-family home without all the maintenance and upkeep.

4) Do Townhomes Have Good Resale Value?
Townhomes are a popular choice for both first-time homebuyers and empty nesters. But what about when it's time to sell? Do townhomes have good resale value?
The answer is that it depends. Generally, townhomes appreciate slower than single-family homes, so if you're looking to profit from your investment, you may need to hang on to it longer to get a decent return rate in a tepid real estate market.
And while making significant renovations like tearing out walls may be prohibited as part of your HOA agreement, cosmetic upgrades such as new flooring, fresh paint, or updated fixtures can bump the value of your home.
In conclusion, townhomes offer many of the same benefits as single-family homes but come with a few caveats. Before deciding to buy a townhome, be sure to do your research and weigh the pros and cons. And if you're looking to maximize your investment, consider making upgrades that will improve your home's curb appeal and resale value.
If you need help buying a new townhouse in Charlotte, reach out to our team of experienced real estate agents!