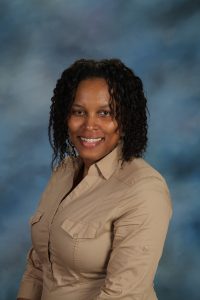 Khalilah Hasan, REALTOR®
Khalilah Hasan is a REALTOR® who has lived in NC for 27 years, loves the Carolinas, and has been passionate about Real Estate her entire life. Growing up, Khalilah would tour investment properties and observe renovations/demos with her family.
Khalilah puts her insider knowledge to work to find a special property for buyers in their desired neighborhood, or to sell their home. With 22 years of customer service and sales experience, Khalilah brings excellent communication skills, friendliness, attentiveness, and drive. As a REALTOR®, her priority is to make clients happy and help them achieve their goals.
Often, buyers don't visualize living in your home the way you do. Khalilah can make a seller's home attractive to its ideal audience, which can help get your home sold quickly and for top dollar. This makes a difference between a home resting on the market and one that's sold fast. See available listings at: khasan.homesaroundcharlotte.com
Angela Hines, REALTOR®
Originally from the Mid-West, Angela has resided in the Charlotte region for about 15 years. Living in multiple Charlotte Metropolitan areas, Angela now calls the Uptown area her home. She is a mother of three delightful girls ages 22, 17, and 9, and grandmother to a remarkable 3-month-old grandson. Angela had a successful career as a Financial Analyst, CFO/Owner, and Senior Accountant for over 20 years. She also had a very fruitful tax practice for 7 years in South Carolina.
This background has afforded her to ascertain incredible skills that are of great value for those buying or selling a home. Angela is a problem solver, tenacious, a fierce negotiator, and an exceptional communicator.
What drives her to use maximum negotiation power is the will to assist others in grasping the American dream of home ownership. Her priority is helping others reach their goals of finding the right place to call home at the best price.
Angela handles all phases of the home buying process; from finding the ideal location, ordering home inspections, to making sure due diligence is done before deadlines. She will also support those wishing to sell their homes by evaluating the most advantageous offers for your home, and ensuring it sells just in time for the next chapter in life. See available listings at: angelah.homesaroundcharlotte.com
Yamile Hernandez, CAM
Yamile joined the Community Association Managers at Henderson Properties a few months ago, and is already applying her 23 years of property management experience to the Community Associations division.
Before moving to North Carolina, Yamile managed communities for Courtesy Property Management for 14 years. As a licensed Community Association Manager since 2004, Yamile managed 10 Associations, including two commercial properties. This role included supervising an onsite manager for a 468-unit condominium community called King's Creek in Miami, Florida.
Yamile's career began in accounting, handling customer service and light bookkeeping for over 80 communities for Joseph Padrón, a CPA who specializes in HOA and Condominium Associations. Following, that Yamile served as Assistant Manager for a 600-unit condominium association from 1997 to 2005.
Sarah Conrad, CAM
Sarah Conrad utilizes management experience as a business owner and community manager to positively affect client's lives at Henderson Properties. At Marolf Construction, Sarah coordinated building permits, purchase orders, and managed vendor subcontracts for commercial projects. For her business CEC Essentials, LLC, Sarah keeps inventory, manages marketing communications, and tracks expenses. Prior to Marolf, Sarah served as Community Standards Manager for Brambleton Community Association through First Service Residential.
At Brambleton, Sarah managed and planned the proactive inspection program which consists of comprehensive lot inspections, monthly, quarterly and seasonal proactive inspection campaigns.  She maintained accurate records and submitted monthly activity reports. Sarah also managed the Covenants Department staff and guided the Board of Directors. Sarah also developed and managed the covenants related budget. Sarah interacted with residents, their agents, vendors, contractors, the Board and Committee members, and Association staff.
Before being promoted to Community Standards Manager, Sarah was Covenants Advisor and Resident Services Administrator for Brambleton.