With so many home improvement shows showcasing individuals who are flipping houses and making bank, there is a growing trend for these type of projects. Are you interested in following suit and trying your hand at flipping a house? While you may not have cameras following you around throughout the process, you still have an opportunity to make a profit if you follow a few simple rules.
1. Stay on top of available inventory.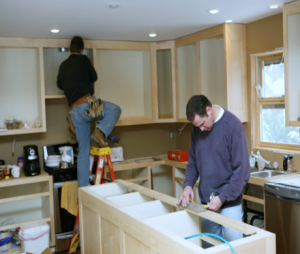 When it comes to successfully flipping houses, a large part of the work involves finding good deals on houses that have the potential to be transformed. Remaining informed about all of the available inventory may mean going to the courthouse regularly to find out when home auctions are going to take place or checking the MLS listings each day to see what houses have just hit the market.
2. Recognize the importance of location.
Whether you are buying or selling a house, location is key. Do not lose sight of this fact when you are trying to find a house that you can flip. The cheaper homes may be in the less desirable areas, but will you be able to sell it once it is renovated? You can always change the way a house looks on the inside, but you cannot change the location. To help speed up your turnover, it is ideal to buy houses in popular neighborhoods that just need some work.
3. Remember that it is not your house.
If you want to sell a flip quickly, you need to renovate it in a way that will appeal to the majority of potential homebuyers. You may fall in love with an orange tile backsplash while you are shopping for materials, but most buyers want to see a space that is fresh and neutral. This is a time where you have to throw your own personal preferences and taste aside. If you choose elements that are too unique or bizarre, you will have a harder time selling the house.
By keeping this advice in mind and making educated decisions throughout the renovation process, house flipping could a successful venture for you. Henderson Properties is committed to excellence in everything that we do, so let us help you find the perfect house to flip.