Outdoor space is a luxury. Families in the suburbs long for spacious backyards where their kids can run around all afternoon, and city dwellers love having the ability to entertain with dinner and drinks outside. Whether it is an expansive lawn or a small balcony, everyone loves being able to enjoy the sunshine and fresh air when they are at home.
If you are one of the lucky ones who lives in an apartment that has its own balcony, we hope you are soaking up your outdoor space as much as possible. If is your balcony is small, there are still many great design features you can incorporate. Let's take a look at a few ways to make the most out of your apartment balcony.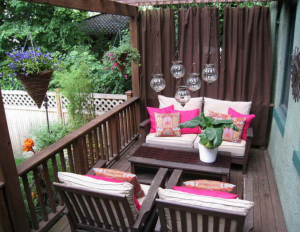 Identify Your Priorities
Do you want your balcony to be an area where you can host outdoor dinner parties, or would you rather make it casual spot to just chat with friends over a glass of wine? Would you like to have your own little garden, or are you more interested in having an outdoor yoga retreat? Your vision and priorities will determine what kind of furniture and décor you need for the space.
Maximize Storage Options
If you plan on buying furniture for your apartment balcony, look for pieces that can do double duty. Bench seating is a fantastic option for small outdoor spaces because it maximizes your seating potential, and many pieces can open up to reveal extra storage space. The same goes for your coffee table or any other accent pieces you want on the balcony. Store all of your blankets, cushions, candles and gardening accessories inside of your furniture pieces.
Add Some Color
Have fun with your balcony space by adding fun pops of color. This can be accomplished in a variety of ways, so there is sure to be an option to meet any taste or style. Plant some purple and yellow flowers outside, get an orange accent run or add some blue pillows to your seating arrangements.
There are no rules when it comes to decorating your apartment balcony. Take risks, and have fun. The great thing about smaller spaces it that it won't cost you much money if you decide to change your décor each year!