Staging is one of the most important aspects to selling your home. First impressions are extremely important when buying something as expensive as a house, so it's a good idea to make everything look as appealing as possible before showing your house to potential buyers. In order to do this, you'll need to follow some key tips on staging your home.
Fixing Up the Neighborhood
Having a nice looking house both inside and outside is only worth so much when the surrounding houses look rundown or messy. Potential buyers won't want to invest in a nice house if the neighborhood looks bad. If your neighbors have sloppy yards or rundown looking houses, politely ask them to clean them up. If you want, you can even offer your help in cleaning it up or offer to do the work yourself either for free or for a fee.
Fixing Up Your Own Exterior
The exterior of your house is the first if not only aspect of your house that is photographed for print or online ads. It is the first thing that potential buyers will see both when they're looking at the ads and when they drive up to your house, so it's important to fix it up before you even consider selling your house.
Give the house a new paint job, reseal the driveway, plant some new grass, put out some flowers in some decorative flower pots, wash your car, trim some low branches, fix anything outside that is broken and do anything else that you can think of to tidy up the exterior. Even the slightest improvement can be immense in the eyes of a potential buyer.
Depersonalize Your Home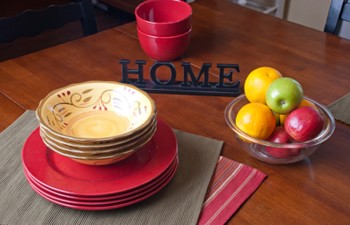 When potential buyers are walking through homes, they want to picture themselves living in that home. However, it's difficult to picture yourself owning and living in a home if pictures and personal items of other people are peppered throughout the home. To combat this remove person items such as;
Photographs of family
Drawings made by your children
Personal memos
Trophies or other awards
Diplomas
Mail
Rid Yourself of Clutter
Toys, dishes, stuffed animals, tools, anything that is just taking up space besides furniture and some light décor should be packed away in storage when buyers come to look at your home. While there's a difference between clutter and messy rooms, clutter can make a house seem suffocating and slightly uncomfortable. People want to see your shelves, your counters, your tabletops and especially your floor in a clean and uncluttered manner.
Lighting is Key
Good lighting can make an amazing difference in how potential buyers view your home. Not only does adequate lighting make things easier to see, but it also makes a house look warm and inviting. If possible, use natural light wherever you can. Sunlight is much more appealing than artificial light.
Clean Out the Closets
Potential buyers can't get a good idea of the space within a closet if it's stuffed with clothes and other items. It's a good idea to clean out the closets in your home as much as possible. You don't need to completely empty them, but ensure that they're empty enough to seem spacious and clean.
Clean Everything and Deodorize
No one wants to enter a dirty and smelly home, and it's certainly not going to gain you any points with potential buyers. Clean your house as much as possible, and don't overlook minor details that may be spotted by potential buyers. Deodorizing is especially important with homes with children and pets. Even if your house looks clean as a whistle, it can still have an odor.