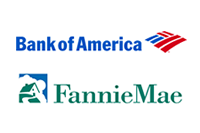 Bank of America has reached a settlement agreement with the Federal National Mortgage Association (Fannie Mae) that will resolve the issue of repurchase residential mortgage claims. Entities associated with Countrywide Financial Corporation and Bank of America originated and sold these claims to Fannie Mae from January 1, 2000 through December 31, 2008. Bank of America also announced an agreement selling servicing rights for 2.0 million residential mortgage loans valued at around $306 billion.
Loans with a total balance of about $1.4 trillion and $300 billion are included as part of the agreement between Bank of America and Fannie Mae. In addition, the agreements end all the unresolved claims Fannie Mae filed for possibly breaking selling representations and warranties. The total of these loans amounted to $11.2 billion of unpaid principal balance as of September 30, 2012.
Under the terms of the new agreement, Bank of America has agreed to pay Fannie Mae $3.6 billion in addition to repurchasing designated residential mortgage loans the bank sold to Fannie Mae. The agreed repurchase price is $6.75 billion. Bank of America has also agreed to pay Fannie Mae a suitable monetary award that will settle all of Fannie Mae's monetary claims that resulted from past delays in processing foreclosures. Both of these actions will reduce Bank of America's pretax income by around $2.7 billion during the last quarter of the 2012 tax year.
Bank of America's terms of agreement with Fannie Mae addresses the issue of the repurchase obligations for residential mortgage loans sold by the bank to Fannie Mae. In addition, the agreement between Bank of America and Fannie Mae establishes time frames for mortgage insurance payments and settlement parameters. The signed agreement adds a provision of future cooperation with mortgage insurers.
Bank of America has also signed agreements with Fannie Mae, the Federal Home Loan Mortgage Corporation (Freddie Mac), the Government National Mortgage Association (Ginnie Mae) and private label securitizations. These additional agreements sell the servicing rights on designated residential mortgage loans serviced by the counterparties. The aggregate unpaid principal balance is about $306 billion. Bank of America currently services around 2.0 million loans that will be transferred after receiving the consent from designated third parties. The number of 60 day and over 60 days delinquent first mortgage loans serviced by Bank of America will be substantially reduced after the completion of the transfer of these serviced loans transactions.