Dilworth offers a perfect combination of amenities, beauty, and convenience, making it one of the most popular home buying areas in Charlotte, NC. It features stunning homes, a wide variety of specialty shops, delicious restaurants, and a close proximity to downtown Charlotte. It's a neighborhood known for its serenity, beauty, community spirit, and tradition.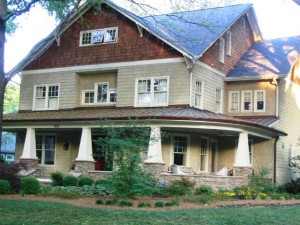 As Charlotte's first streetcar neighborhood – established back in 1891 – Dilworth has a special and unique place in the area's history. Over a century later, it's still considered one of the best neighborhoods to live in, and for many good reasons.
Dilworth features a wide variety of dining and entertainment options. There are all kinds of unique boutiques, specialty stores, and a diverse selection of restaurants and bars to please any palate. Another great amenity is the Dowd YMCA – a huge 7-story structure that offers all the exercise opportunities one could need.
Freedom Park draws plenty of community activity as well. It's a beautiful park featuring walking paths, baseball fields, volleyball courts, pavilions and grill areas, and a small lake complete with a picturesque bridge. It's a great place to spend a day with family and friends, or a perfect place to get outside and exercise.
Thanks to its convenient location, residents of Dilworth also have easy access to everything the city of Charlotte has to offer: Bank of America Stadium, Time Warner Cable Arena, several theaters, the Epicenter, multiple museums, the NASCAR Hall of Fame, and a host of wonderful restaurants and bars.
If you're considering home buying or home selling in Dilworth, you may want to contact one of the friendly and helpful real estate agents at Henderson Properties. They have ample experience in the area, which makes them an excellent resource for home buyers and home sellers alike.