Henderson Properties and American IRA will be hosting a Free Webinar on Thursday, June 27th at noon and 7 p.m. (EST) to teach investors how they can use self-directed IRAs and 401k to add to their rental portfolios.
Using an IRA as a real estate investment vehicle is a growing trend that can help make you a savvy investor. The free hour-long webinar will discuss how your IRA or 401(k) could help you purchase rental properties. Rental properties are becoming an increasingly popular way to invest for retirement. With the help of Henderson Properties and American IRA, you can learn how to add to your rental portfolio by using your self-directed IRA or 401(k) as an investment channel.
Senior Vice-President of American IRA, Sean McKay, a resident of Charlotte, will be leading the discussion during our investment webinar, along with Phil Henderson, president of Henderson Properties.
Register Here:
Thursday, June 27, 2013
12:00 PM – 1:00 PM EDT
Click Here to Register
Thursday, June 27, 2013
7:00 PM – 8:00 PM EDT
Click Here to Register
---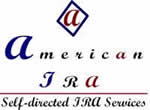 American IRA, LLC is a National Self-Directed IRA administrator that offers administration of self-directed IRAs and self-directed Solo 401(k)s. For 7 years, American IRA has provided excellent service to its clients through education and personalized service. American IRA officers are experienced investors who have invested in everything from single-family homes to multi-million dollar commercial properties. American IRA has employees recognized as Certified IRA Services Professionals (CISP) – a designation from the Institute of Certified Bankers (ICB). American IRA has over $250 million in assets under administration. For more information, visit americanira.com.